How to make Windows 10 connect  to VPN automatically
I have been using Windows 7's VPN client for a few years. Recently, I just upgraded to Windows 10 and I figured out that there is no way to make the VPN connection to start up automatically with system. Also, there is no way to automatically reconnect when connection is dropped. The VPN itself worked quite well in Windows 10 but the auto-connect and reconnect issues are very annoying.
Is there any way to make it auto-reconnect whenever the VPN connection is broken?
Reconnect to VPN automatically in Windows 10
If you are looking for a reliable VPN service provider, we recommend you this VyprVPN, because it works on almost all devices.
If you have googled this problem before, you would find that there is no easy way to fix it. Some told you to use task scheduler with some commands while some told you to write a script using power shell. Today, we'd like to introduce you a very easy way to handle this, using a free software called AutoVpnConnect.
Simply download and install it. And here is how to use it.
Step 1. Open the application.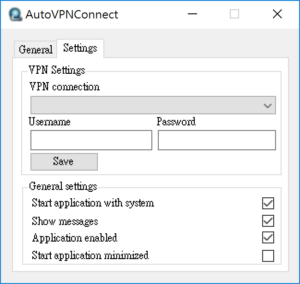 Step 2. Dial up your VPN connection and make sure it's connected.
Step 3. In AutoVpnConnect, select this connected VPN profile in VPN Settings->VPN connection.
Step 4. Manually input the VPN's username and password in AutoVpnConnect.
Step 5. It's all done and try to restart your Windows and see if it works.
By: CJ