This article also applies to Nvidia Shield, Android TV, Android Box and Android TV, such as Sony, TCL, Hisense and Sharp.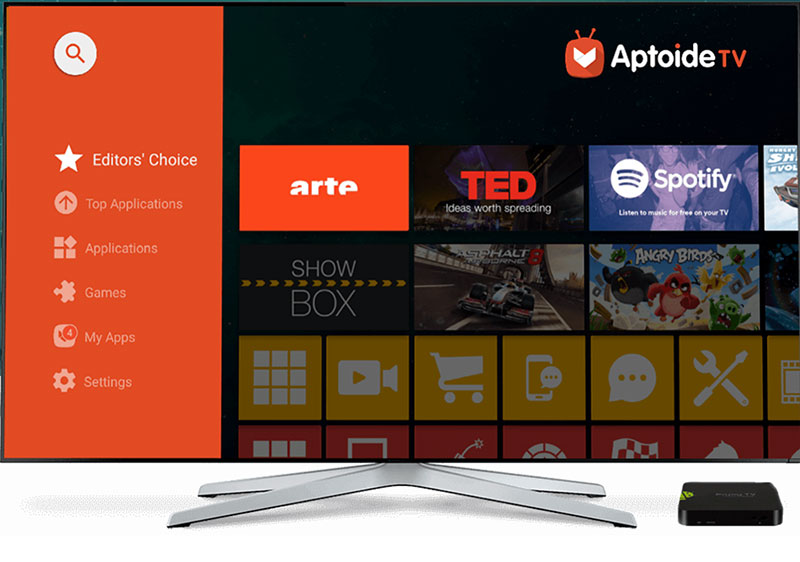 Aptoide TV is an alternative to Google Play Store for Android TV/Mi Box S devices, Aptoide TV provides you an alternative app store that offers content based on richer user experience. For example, Aptoide TV's UI optimization makes it look a lot better on FHD and UHD scales of larger screen devices, such as high-definition televisions including Sony, Sharp, TCL and Nvidia Shield Pro/Mi Box S.
Download and install Aptoide TV apk on Mi Box or Android TV
Aptoide is considered as an alternative to Google Play Store, and it accepts more apps that were rejected by Google Play Store. Hence, you can not directly install it from Google Play Store on Android TV.
Aptoide TV official web site: https://tv.aptoide.com/?lang=en
note: You can not navigate to this URL from your Android TV as there is no web browser built in.
Download Aptoide TV apk on Mi Box or Android TV
Thanks to a newly available APP from Google Play Store (TV) called: Smart TV APK downloader We can now directly download and sideload Aptoide TV apk on your Android TV system, without even using a USB thumb drive!
Simply go to Google Play Store on Android TV and search for "Smart TV APK downloader".
Once downloaded, install it, and then you can continue downloading/installing Aptoide TV or other stuff with just few clicks.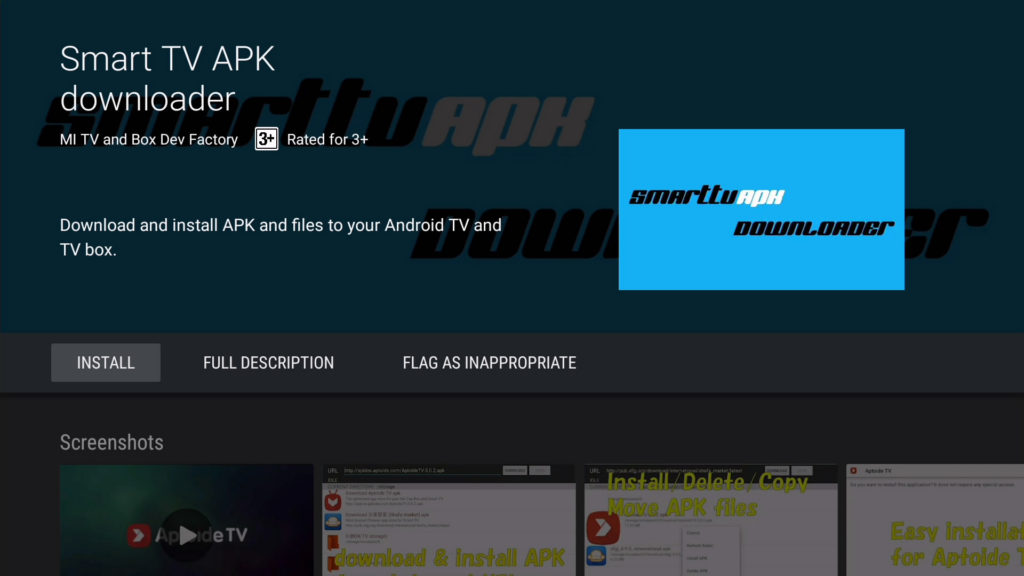 YouTube Video Tutorial:
APKs that you can install with Aptoide TV
Apps such as Amazon Prime Video – Android TV or JioTV can both be found in Aptoide TV market, just browse in the store and find your favorites.
This ES File Explorer method no longer works as this app had already been removed from Google Play Store for months
Using ES file explorer to install it (obsolete)
Launch ES File Explorer, and browse to the USB drive you inserted into your Android TV or Mi Box, and navigate to the Aptoide TV apk file you downloaded previously by a PC, and click install.