Feel tired of punching keys endlessly to change names of multiple files?
When you upload or download hundreds of photos or mp3 music files to your PC, you may want to rename them to make it untidy. But, well.. There are hundreds of them…
How can you modify or rename all these files at the same time?
Perhaps you've heard of a little tool called Total Commander, its a small but extremely powerful tool that can do so many things collectively. Grab this little tool here.
Total Commander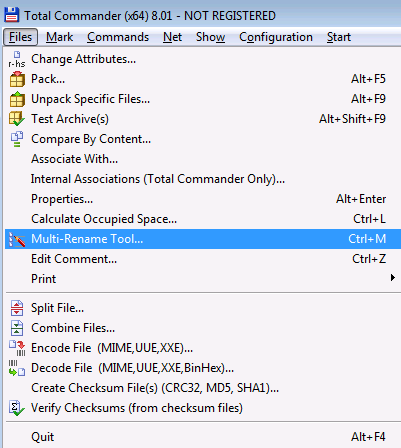 Here are the steps to do rename for mutiple files:
After you install, open Total Commander and browse to the folder where these files are.
Select all these tools within their folder using hotkey of CTRL+A.
When the files you want to adjust are selected , go to the Files option in the top-left corner.
From here you will see an option called Multi-Rename Tool.
What this tool does giving you an option to change a specific letter, symbol or number to something else. For example change all A's to B's.
Now in the Search For 

bar you will type the words, symbols, numbers or letters you want to find and replace with something else.

In the Replace With bar you will enter whatever you want as replacing string. Or leave it blank if you want to remove the text you entered in Search For

 from the file names.

Simply click on Start! button to start replacing. When it's done, you can click on Close.
Now all your files are renamed as you specified. No more tedious one-by-one renaming that takes forever, Thanks to Total Commander!